Previous Yoga and Sailing Retreats
Yoga & Sailing Retreats
Carpe Diem Yoga's exclusive Yoga Retreats take you on an unforgettable journey across Croatia's sea.
Give you mind and body the rest it deserves. See below for more information.
Yoga & Sailing Retreats in Croatia 2019
Join us on an adventure across Croatia's breathtaking islands.
Our week-long Yoga retreats take you on a sailing voyage starting in Marina Puntica-Medulin Bay, from where we set off with our sailing yacht to some of Croatia's most stunning and remote islands.
Everyday has been designed to accompany every participant's needs and wishes.
Whether it's daily yoga classes, guided meditation, snorkelling, sightseeing or plenty of other activities – all you need to do is to go with the flow.
Dates
18 May – 25 May 2019
25 May – 1 June 2019
1 June – 8 June 2019
Starting Point: Marina Puntica-Medulin, Croatia
Map
Highlights:
– 7 night's accommodation on Your Yacht
– 2 Yoga Classes per day – no need to bring your own yoga mat
– Evening guided meditation
– Basic sailing lessons and boat steering
– An organic smoothie in the morning to start the day off right
– Many fun activities: snorkelling, etc…
– Free Mobile Wi-Fi
Skill Level: All levels are welcome
Yoga Style: Hatha
Our Journey
Day 1: AYC Marina Puntica-Medulin – Unije
Day 2: Unije – Susak – Mali Loshinj
Day 3: Mali Loshinj – Ilovik – Silba
Day 4: Silba – Rab
Day 5: Rab – Punat
Day 6: Punat – Cres
Day 7: Cres – AYC Marina Puntica – Medulin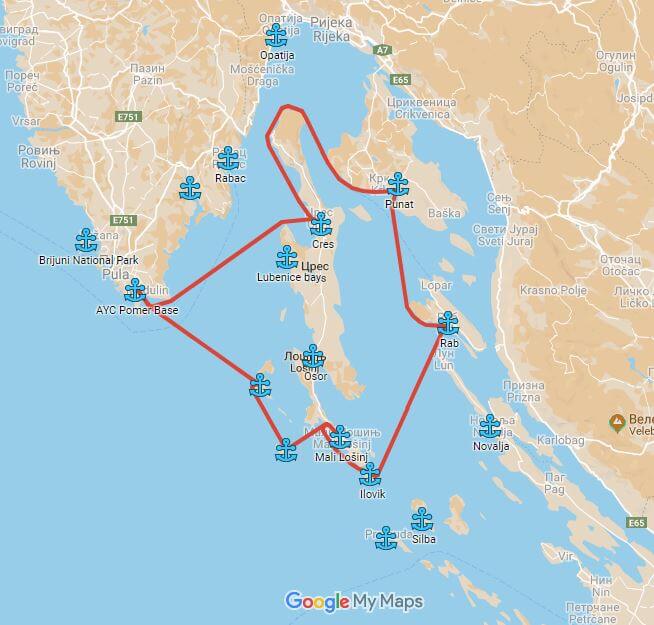 Sailing Route Example
We do our best in order to adapt the route to each group's needs and take you to the most beautiful beaches and bays in the Mediterranean.
Other Information
Instruction language: English.
Spoken languages: English, German, Serbian/Croatian/Bosnian, Macedonian.
Price: 850 € / Person
Not Included In The Price:
– Food and beverages
– Excursions to cities
– Journeys to and from Medulin
– Airport transfers
– Travel insurance
– Tourist tax fee (1.50 € per person/day)
Payment Conditions:
– Required deposit of 50% of the total price.
– Fully refundable if the booking is cancelled up to 90 days before the arrival date.
– The rest of the outstanding fee is payable anytime up to 90 days before the start of the yoga retreat.
YOU WILL BE MORE THAN WELL TAKEN CARE OF BY A HIGHLY EXPERIENCED & IN PARTICULAR PASSIONATE DREAM CREW OF A YOGA INSTRUCTOR + A CAPTAIN WHO HAS SAILED PARADISE BEFORE!